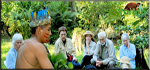 The Yarina Lodge is strategically located in an area of forest that counts on the highest diversity of micro-habitats in the Napo area. This means that there are more species of animals, birds, reptiles and insects than anywhere else on the Napo river or in the surroundings.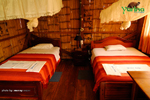 The Yarina Lodge, is located on the Napo river only 60 minutes by covered motorized canoe from Puerto Francisco de Orellana (EL COCA).
Yarina Lodge, is a member of the Yuturi Conservation Group, an organization involved in many rainforest conservation projects that are supported by national and international organizations.
Yarina Eco Lodge started 10 years ago as a program to teach the importance of conserving wildlife and our environment with the local community. However, year by year, the lodge was growing, changing and developing new important forms of work with the local people, along with national and international tourists. Today, the lodge is considered one of the most important and best rescue centers of wildlife in the Ecuadorian Amazon.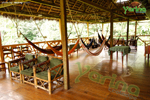 The Rescue Center "ARCADIA",  supports the conservation and rescue of wildlife in the Ecuadorian Amazon.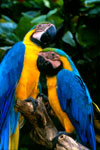 We are sure that you will enjoy discoverng the magic of the jungle and learning how to save the wildlife in this interesting experience after flying in to Coca and some navigation on the Napo River.  More info click here