A new alternative place to stay in Southern Ecuador for birders and nature lovers, located at 3 kms from Podocarpus National Park (Bombuscaro entrance)
COPALINGA lodge is located at an altitude of 900 m.a.s.l. (approx. 3000 feet) The area is free of tropical diseases, such as malaria. The rooms are provided with screens, although there are very few mosquitoes at night.
Trails exist around the cabins. Along the trails, thatched benches, located at excellent bird viewing spots, provide shelter and allow for convenient bird watching even when it is raining. Hummingbird feeders are present in front of the restaurant. The entire area provides great opportunities for bird photography.
The trail loop system, which spans an altitudinal range of 400 m (1300 feet), allows you to get into the interior of the tropical submontane humid forest, a precious world full of orchids, bromeliads and ferns and of forest birds.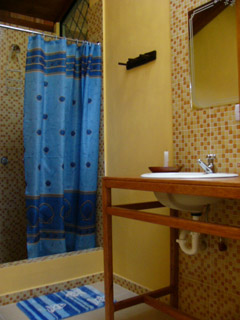 This lodge is one of he most interesting places in southern Ecuador, to get here is simple form cities like Loja and Zamora. Tourist accommodation services. More info click here