La Selva Jungle Lodge is a sumptuous Resort and Spa located in a rainforest paradise in one of the most biodiverse areas of the planet. There are a number of possible excursions and tours with an English-speaking guide, some more physically challenging than others, which cater to all ages and physical abilities.
Situated on Garzacocha Lake, spotting monkeys, hundreds of species of birds, sloths, caymans and butterflies are just a short walk or canoe paddle away. An easy trail close to the hotel is usually filled with wildlife at any hour of the day. A short walk through rainforest will allow you to appreciate the giant kapok tree (Ceiba pentandra) and the Strangler fig tree (Ficus sp), along with thousands of other plant and animal species.
Birdwatching is exceptional at La Selva. It's the closest lodge to the Napo Parrot Salt Lick, and the surrounding area has been shown by onithological studies to contain more species of birds than any other site in Ecuador, and more than both the entire US and Canada combined. Across the river sits the Yasuni National Park, one of the most famed parks in the Amazon Basin, which is visited regularly on every trip to La Selva.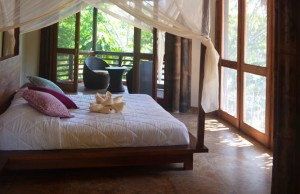 La Selva is a study in sustainable adventure travel and ecotourism, allowing for a profound interaction with Amazonian wildife and cultural exchange with indigenous communities, deep in the Amazon rainforest of Ecuador.
Overlooking the lake, the newly built central lodge and restaurant, is one-of-a-kind. Spot birds and rainforest species as you lounge sipping an exotic cocktail. Dine by candelight while enjoying exquisite cuisine prepared by our French chef.
The breezy, stylish cabanas are inspired by native bamboo designs. Many have jacuzzis, rainforest showers and lake views. The sounds of the rainforest soothe you to sleep at night, and the singing of birds awaken you in the morning. 
Book now