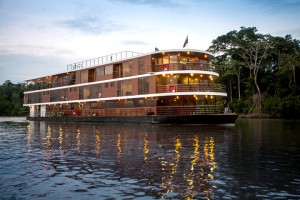 The Anakonda Amazon River Cruise is the only luxury ship in the Ecuadorian Amazon Rainforest. It was built to make the experience of the Amazon, with is nature and biodiversity, the mythical ethnic groups and their culture, the most comprehensive and unique adventure possible.
Its eighteen suites feature ample sitting areas, large and comfortable beds. The vessel comes complete with an expansive observation deck, outdoor Jacuzzi and an al fresco lounge, ideal for cocktails, relaxation, reading or simply enjoying the spectacular view.
The vessel also features 3 canoes for guest transportation to land excursions and activities and 10 kayaks, as well as hammocks. Naturalist tour leaders and a travel concierge, who will go out of his way to personalize your experience. 
The Anakonda offers you the opportunity to visit many different sites within a number of national parks and reserves, including world famous Yasuní Biosphere Reserve and the magical lakes of the Cuyabeno. Our specialist and local guides are expert spotters and they will surprise you by their skill at showing you many of these animals among the density of the lush jungle and the different flora especies that make this forest the 7th New Wonder in the World.