For the ones interested in taking advantage of  time, this tour will allow you to enjoy the highlights of the Andes and Pacific Coast the best way:  quick and fun, just like a huge roller coaster. This tour Guayaquil-Cuenca, includes the best of two different regions and two of the most important cities in Ecuador.
(Photo belongs to YoTuT)
Day one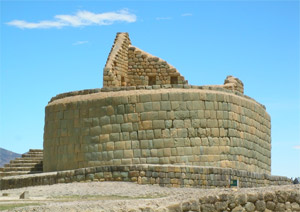 We'll leave Guayaquil in the morning and start to climb through the Andes toward the Archaeological Complex of Ingapirca, the most important and best preserved Inca site in Ecuador. After the visit, lunch will be served at a traditional farm house restaurant in the area, where the lit fire place will be very appreciated being at 3,300m of altitude. Then we'll continue towards the Andean city of Cuenca, where you'll be taken to the   museum and factory of the famous, but misnamed, Panama Hats…a true symbol of Ecuador. Transfer to your hotel. Tourist Superior hotel night and lunch included.
Day two
Check-out from your Hotel to start the day strolling through the cobbled streets of this beautiful World Cultural Heritage, crossed by four rivers that add up to the splendor. After this short visit we'll start driving towards the lower zone of the El Cajas National Park, world known for its over 300 lake system. Here you will do an easy hike on the Llaviuco Lake area while bird watching and landscaping. The tour will continue towards the high zone of the Park, to observe Páramo vegetation and start the descent   toward the subtropical lower lands where you'll be amazed by the rapid and contrasting change of landscape and weather. In a few of hours, we'll pass from the high moorlands to the biodiversity of the cloud forest then to the vastness of cacao and banana plantations to finish witnessing the frantic activity of the main port and economical center of Ecuador. Box lunch is included. Book now