Yacuma Jungle Eco-lodge is located on the shores of the Chontayacu River, affluent to the Napo River -one of the most important tributaries to the Amazon River- in Napo Province. Since 2004 the Yacuma 300 hectares area, has been declared as a Protected Rainforest Reserve that shelters a great number of flora and birdlife species.
Yacuma is a truly ecological lodge where electricity is obtained through Solar panels, the construction of the bungalows uses replaceable materials to avoid unecessary trees depredation for decorative purposes. All types of energy savings are applied to the facilities for the least possible impact in the area.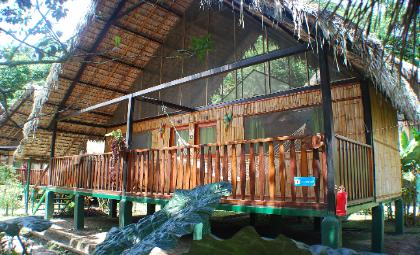 The ecolodge was created in 1995 as a joint venture between the Kichwa and Huaorani indigenous communities and Ecuahotel and it's managed by the local villagers, providing employment and sustainable economical activities related to ecotourism for fifteen families. As well as the company provides primary education at the Chontayacu Indigenous Community School, medical care and a scholarship to continue with secondary education in Tena for the best school graduated.
Yacuma Jungle Eco-lodge is a great experience for the conscious eco-tourist that searches for a truly natural experience, with the most friendly service. The facilities consist on twelve bungalows built in the traditional Amazon-style, that allows natural ventilation, composed of two rooms, each one equiped with private bathroom and two comfortable twin beds with mosquito nets. There's an evening schedule for the use of electricity in the social areas like the dinning room and reception area, that are equiped with electric outlets for recharging your equipment and cameras batteries. The bonfire social area keeps the mystic of this Amazon Rainforest experience.